1 - Do all vidapps need to be listed under the 'Vidapp' developer title in the app stores?
No, they don't! Have a look at our
Sleek Technique
and
BJJ Building Blocks
apps, which have both been published under different developer titles.
There are additional costs involved with this option, which at this stage are $99 annually to be paid to Apple and a one-off fee of $25 to be paid to Android.
2 - If I choose to, how do I set up my own developer accounts?
Just follow our instructions
here
. It typically takes anywhere from a few days up to 3 weeks, so allow plenty of time.
3 - Can any video be converted into a vidapp?
As long as your videos are reasonably high quality, we can convert your videos into vid
apps
.
Videos don't need to be HD, but Apple in particular do demand high quality content, so your videos need to be relatively recent and of a relatively high production quality level.
4 - Who is responsible for marketing my app?
We can help you to get as much app store search traffic as possible with app store search optimization (specifically advice on your icon, keywords and getting reviews).
For best results, we've found it's also important to market your apps to your existing fans and followers (just as you would market a new book or DVD release), which we leave up to you.
5 - How easy is it to publish and edit vidapps through your online tool?
Very easy! So easy that no training is required.
An iPad at the top right of your screen illustrates how your app is looking at all times (as per the screenshot below), so you can build and design your own vid
app
right in your browser.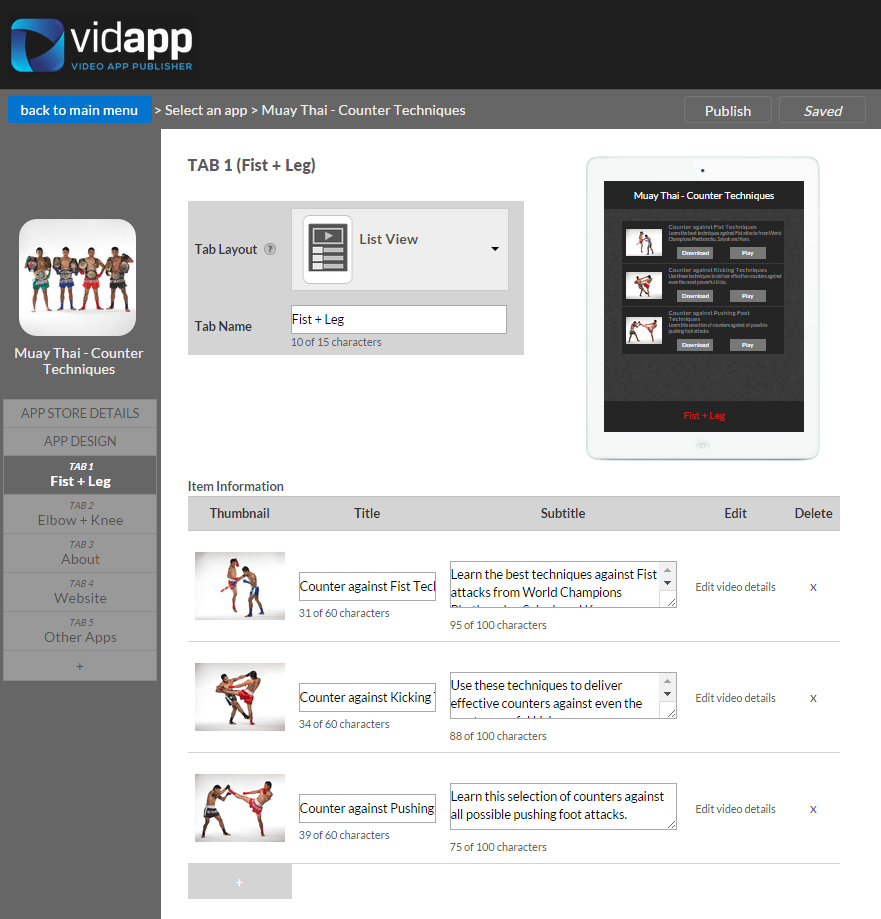 6 - How can I send you my videos?
You can submit videos in seconds by selecting them in your Dropbox account or by giving us a URL for your video.
If your videos aren't already on Dropbox or online, you can upload them directly to our servers through our website (once you've created an account).
7 - How do I receive payments from Apple and Google?
Apple and Google both make monthly payments approximately 30 days after the end of the month in which sales were made.
If you're publishing your apps under the 'Vidapp' developer title, we will receive payments from Apple and Google on your behalf and deliver your share to you via PayPal within 30 days.If you publish your apps under your own developer title, you will receive payments directly from Apple and Google. We will then send you an invoice for our share (if you have chosen one of our pricing options with a revenue share component).
8 - How can I see how many videos I've sold?
Once your app is live, you will be able to monitor your sales through the 'Sales and Trends' page on our website (as per the example below). This page details your installation and sales figures for apps and in-app purchases.