VidApp Customer Spotlight: Yoga with Kassandra
Featured in
Shape
,
MTV
and
Elite Daily
and hailed as a channel "that'll take your yoga practice to the next level" we're really proud to announce Yoga with Kassandra as one of our newest VidAppers!
Kassandra teaches and inspires yoga students from all corners of the world through her online video classes and programs. Her mission? "Create accessible, easy to follow yoga classes that you can do in the comfort of your own home." With this goal in mind, we're excited to be a part of her journey! Our team at VidApp helped to create and launch the Yoga with Kassandra app / vid-app which lets people access Kassandra's inspiring content and get their daily dose of yoga – anywhere and anytime.
In 2008 Kassandra began practicing yoga to improve flexibility as well as learn how to manage stress and anxiety. In 2013, she started her YouTube channel with only a handful of subscribers. Today, Kassandra is one of the most renown online yoga teachers in the world. With over 200,000 subscribers and 250+ yoga videos, her journey has led her to introduce and teach Yin, Vinyasa, Hatha, Power, Meditation and Restorative Yoga to hundreds-of-thousands of people all over the world.
"What started as my own personal sadhana to ease stress and anxiety quickly unraveled into my greatest passion, an exciting career and a whole new way of life!" – Kassandra Reinhardt from Yoga with Kassandra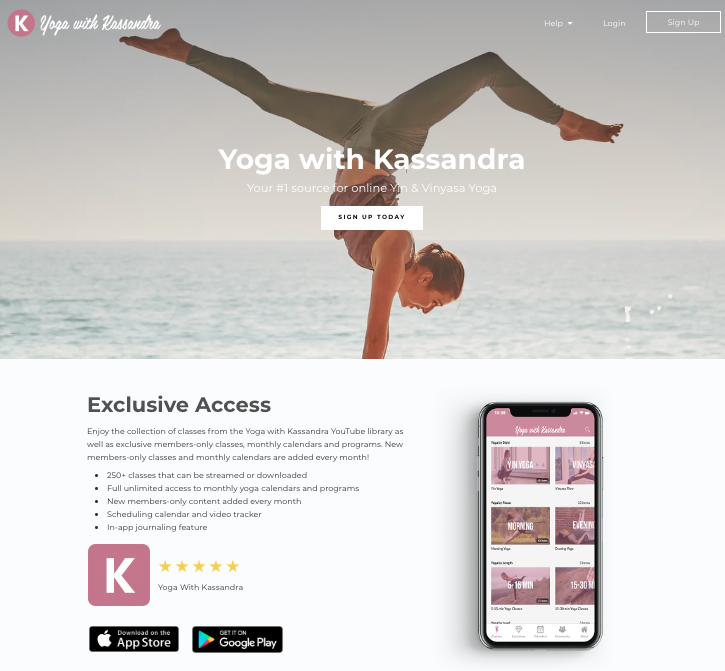 Yoga with Kassandra's pain points
Looked at "all-in-one OTT solutions" like Uscreen/Intellivideo/Vimeo OTT and felt they didn't provide a customizable app solution like she needed to stand out in the "world of online yoga"

Didn't like the percentage revenue share some platforms were providing a templated solution that was only for the website

Had explored custom development which was extremely expensive but wanted some custom functionality (i.e. in-app calendar)

Wanted a solution that allowed her to sign-up subscribers via a website and inside the App Stores with in-app transactions.
VidApp's solutions
A custom branded OTT mobile app solution. One that was backed with our specialized knowledge in yoga app development

An affordable and powerful website solution that supports web-to-app sign ups and seamlessly integrates with the Yoga with Kassandra app

In-app transactions for both iOS and Android (Roku & Apple TV coming soon!)

Super affordable app development, costing only a fraction of the price when compared to traditional developers

Custom app functionality – in-app calendar which allows Kassandra's members to schedule videos/classes and stay accountable

Custom app functionality – daily mantra and journal questions to empower members go deeper and reflect on their practice.
Feature spotlight

Fully customized landing / membership sign-up page
To compliment her app/vid-app, we designed and developed a landing page for Kassandra which allows her followers to learn about her app and subscribe. This makes it super easy to acquire new subscribers and bypass any App Store sign-up fees. Check it out here

Calendar to schedule and track
A monthly in-app calendar lets Kassandra's members schedule videos and classes ahead of time. The calendar also encourages them to stay accountable by tracking their progress throughout the month and automatically logging "videos watched" or "videos missed"

Daily Journal Questions
The calendar combines super nicely with daily journal questions which Kassandra has set to help them reflect on and deepen their yoga practice

Favorites, watchlists and downloads
To round out their app experience, all users can create their own in-app "Favorites" and  "My List" playlists, download videos to practice at the gym or on the road (don't worry – all the videos are safe and secure!), receive mobile push notifications, and quickly search her entire library of videos with smart search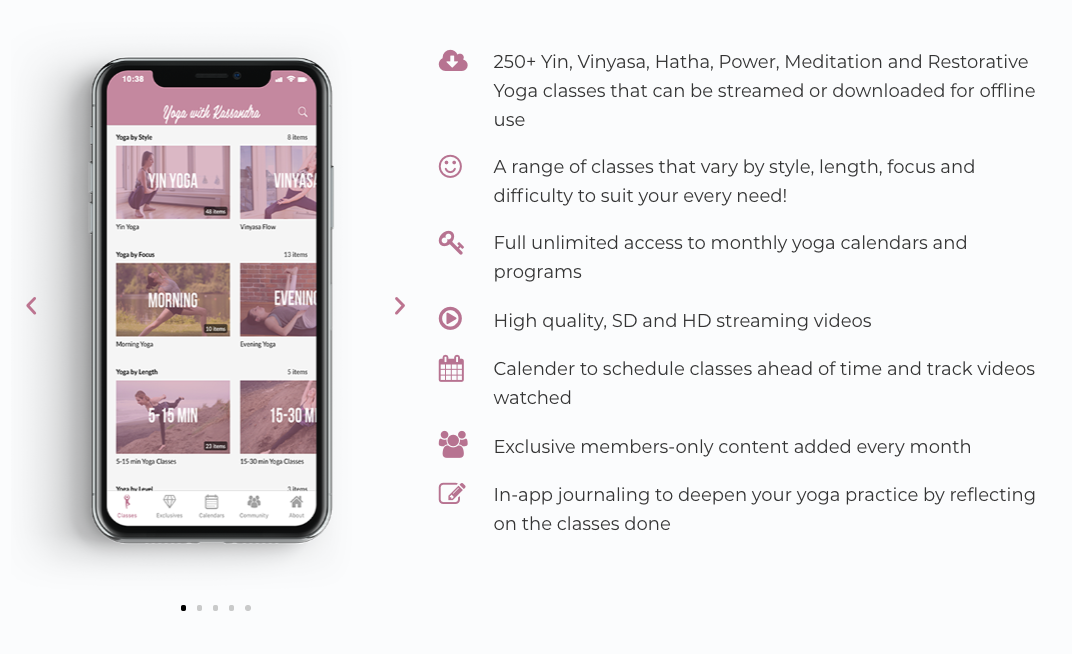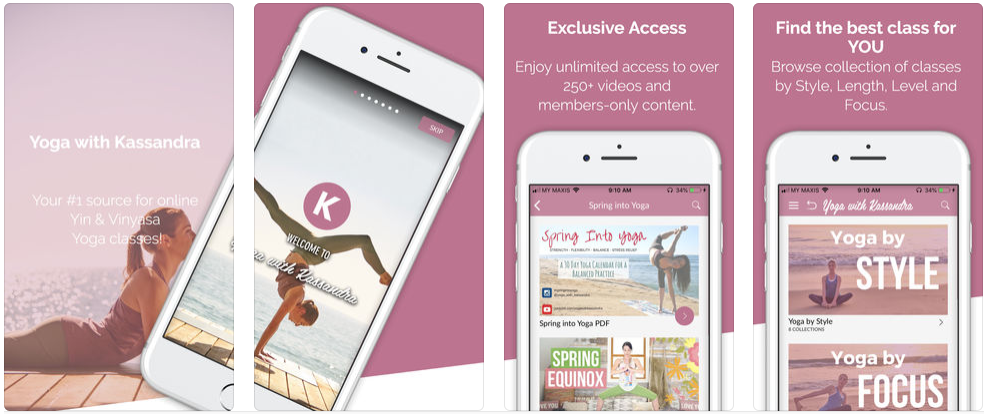 Check out the technical information or download the free Yoga with Kassandra iOS or Android app / vid-app below.

---
Technical Specs:
App platforms: iOS, Android, iPad and Android Tablet
Website platform: WordPress
Video platform: Vimeo
Membership plugin: Memberpress
In-app features:
Monthly calendar view for scheduling videos, classes, and programs

Daily journal entries

In-app Playlists

Yoga with Kassandra Community (Facebook Group)

Secure video downloads for offline viewing

Mobile push notifications

In-app transactions

App-to-website membership syncing

Smart search