VidApp Customer Spotlight:

HIIT MAX, Burn Fat. Not Time
You may have heard of HIITBURN and HIIT MAX, two high-energy, online health and fitness platforms with strong communities reaching all corners of the planet. Well, we have some exciting news!
HIITBURN recently merged with HIIT MAX to join the two powerhouse brands together, creating an even stronger online platform and community. The team at VidApp love helping people and brands to connect, motivate and inspire the world, so we're super excited to be a part of the "new" HIIT MAX journey.
Kelsey and Dennis have been a pleasure and inspiration since day one. We can't wait to see what this powerful trio achieve on their mission to "Burn Fat. Not Time." and "make happier and healthier humans" 

–  

Rory Hancock, VidApp VP Business Development & Marketing
If you're interested in learning about the health and fitness focussed team behind HIIT MAX and why they chose VidApp, take a look at their app development journey below.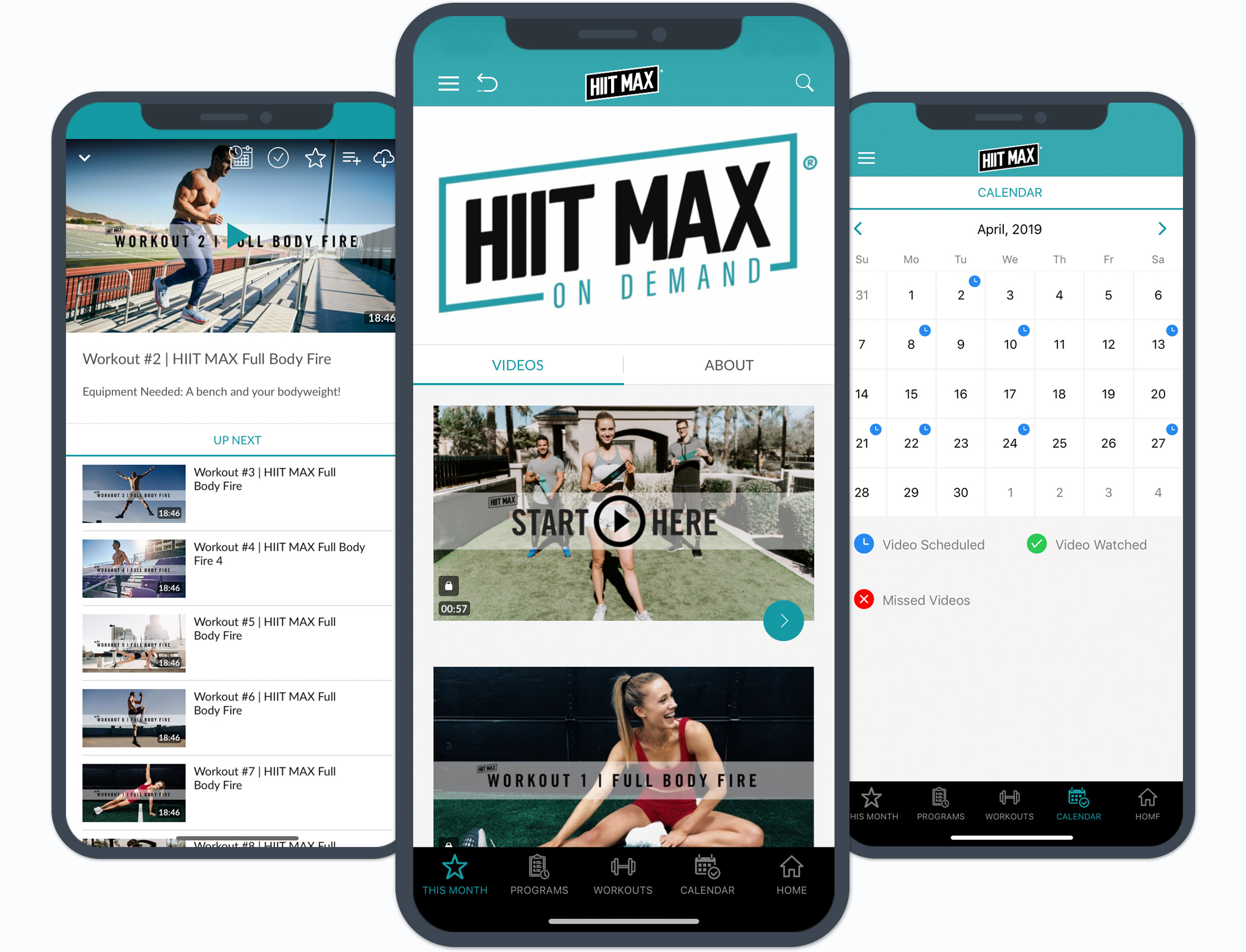 Understanding the People Behind the Brand
The Co-Owners Michael Morelli Jr. (HIIT MAX), Kelsey Heenan, and Dennis Heenan (HIITBURN) are a strong trio all with impressive backgrounds in health and fitness.
From humble beginnings in his mom's basement, Michael founded HIIT MAX and today is a renowned fitness entrepreneur, author, coach, and the owner of multiple multimillion-dollar health and fitness companies.
HIIT BURN founders, Husband and wife duo Kelsey and Dennis Heenan started HIIT BURN with their athletic backgrounds and shared mantra to "create fitness and health resources that fit the individual while producing effective and lasting positive results".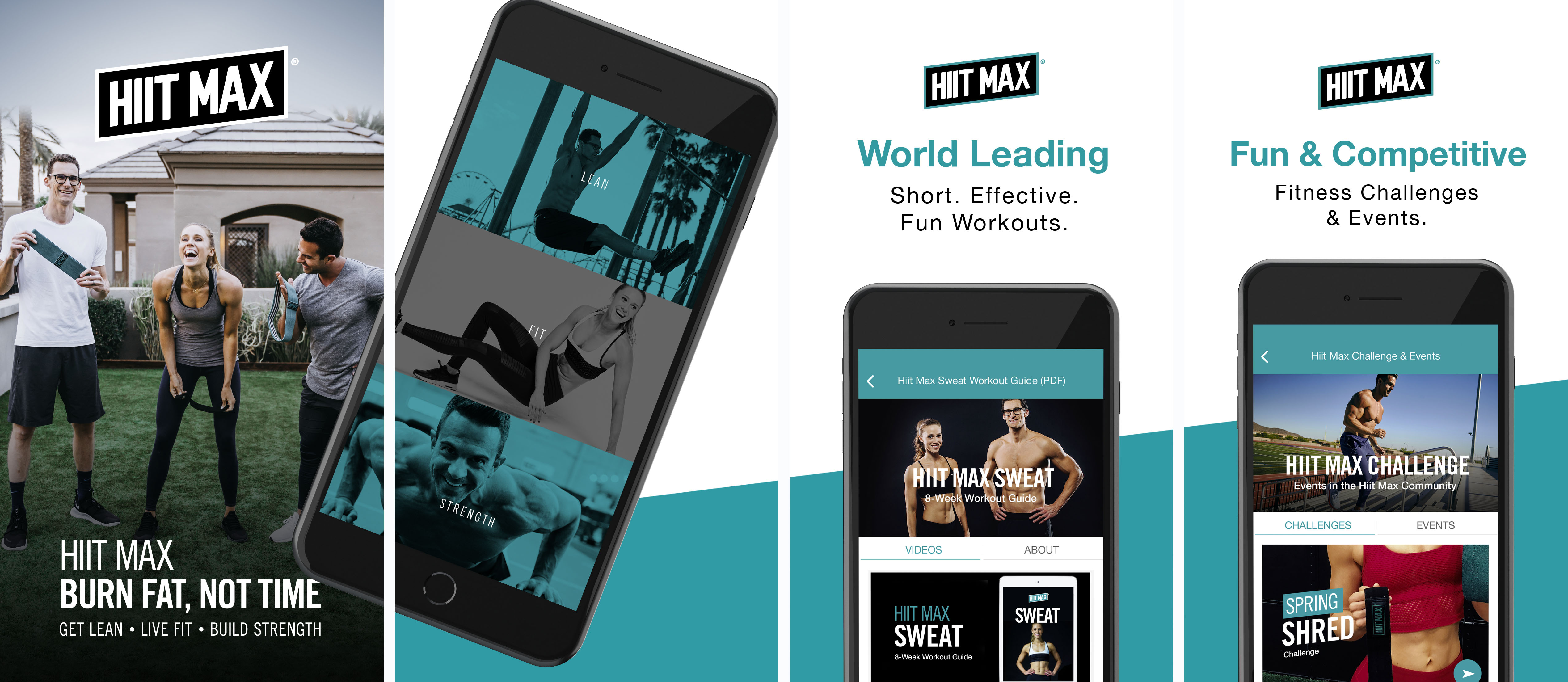 HIIT MAX Pain Points
High Upfront Cost
When HIITBURN/HIIT MAX first connected with VidApp, they had done their research on custom app development and had other quotes from $30k-$100k. This upfront investment felt risky without a proven concept and they wanted something they could grow into
Extensive Content library
The HIIT MAX content library has over 1,000's of follow-alongs and instructional videos. With a fully templated app, they were concerned about their member's ease of navigation through such a comprehensive library and wanted to make understanding and browsing their library as simple and easy as possible for their members
Web > App Integration
HIIT MAX wanted to extend their offering across all platforms, but didn't want to add too much complexity to publish and organize each piece of content across both platforms
Stability & Infrastructure
Having heard other development "horror stories" and with such a large and growing community, they had concerns about offshore developers which either weren't native English speakers or didn't have a proven track record specializing video apps and video app functionality
Ongoing Updates & Maintenance
To make sure they kept up with the competition, they needed a solution which allowed them to easily update their app content, as well as update or upgrade their apps with new features/functionality, and when Apple and Google released a new device or software version
VidApp Solution

Low Upfront Setup Cost
Compared to their custom development quotes, VidApp was a fraction of the cost and even provided extra customization on top of the pre-existing templates

Customizable
The customizable aspects of the apps allowed HIIT MAX to create their look and feel, convey their core beliefs and messages, and truly immerse their members in the HIIT MAX brand

User Experience
The customizable structure of the apps has allowed HIIT MAX to easily separate their content across multiple "Tabs" and simplify their massive library by follow-alongs, programs, and workouts. This simplification helps users understand instantly what content is available to them, and then navigate it with ease
VidApp Builder (App Builder + CMS)
Rather than rely on developers, they're able to easily manage and update their apps themselves through the VidApp Builder backend (Video App Builder + CMS). From adding new content, creating new "Tabs" and changing the color scheme/branding
Web + App Integration
We integrated in-app purchases with HIIT MAX's WordPress site so users can subscribe or purchase on any device (website or in-app), and get access everywhere. We also integrate with their Vimeo channel so any time an update is made on their Vimeo, it can seamlessly update their apps saving their team their most precious resource – time
Maintenance + Upgrades
Unlike traditional app developers, VidApp handles app updates and maintenance, as well as app user support, and quarterly feature and design upgrades – all with no expensive hourly rates. This was especially important for HIIT MAX as unlike most apps or websites, they won't have to start again and rebuild in 3-4 years. They're comfortable knowing they have an app partner that's in it with them for the long term – which was especially important for HIIT MAX.
"The VidApp platform and entire staff were so impressive. They have been so helpful throughout our entire process to make sure our experience is great and that our customers have everything they need" – Kelsey Heenan, HIIT MAX Co-Owner
The VidApp Builder in Action
App Features
 Smart Search
Smart search is a super helpful way to navigate comprehensive content libraries, like HIIT MAX's! Users can search specific keywords related to the type of content they're on the hunt for, i.e. "banded side leg lifts", to quickly find and watch it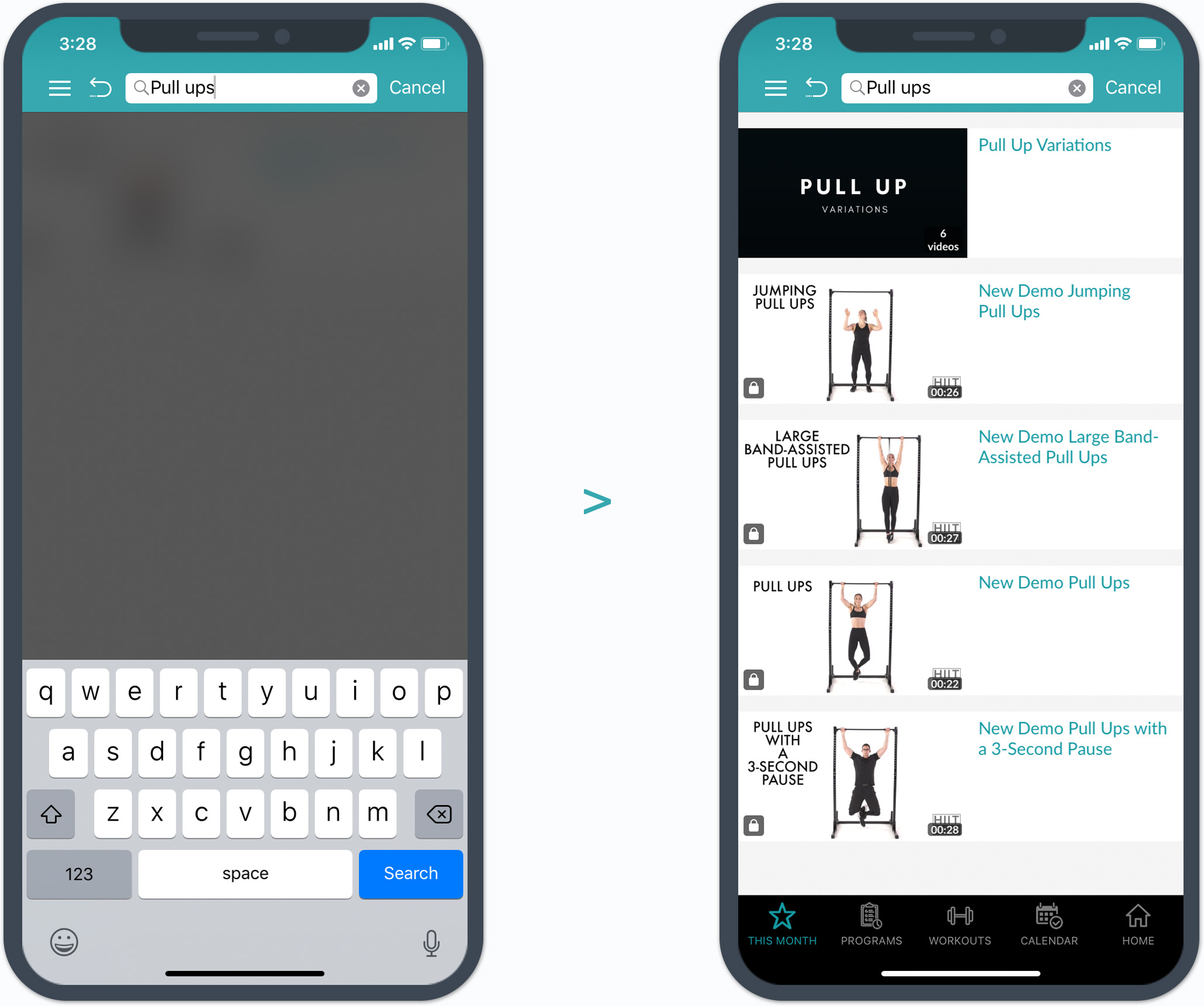 Calendar
This one we get really excited about. The in-app calendar feature lets your app users schedule videos to watch on specific days of the month. On top of this, the app keeps track if they don't watch a video on the scheduled day. This is great for brands such as HIIT MAX that have a member base who wants to watch workout videos as apart of a weekly workout program. Plus, it helps members stay consistent and on track in achieving their health and fitness goals
"The workout calendar is so exciting! That will help our customers level up their workout game" – Kelsey Heenan, HIIT MAX Co-Founder
 In-App Playlist & Downloads
In-app playlists give app users a great way to save their favorite workouts and create their own playlists or save a video to their "My List" to save videos to watch later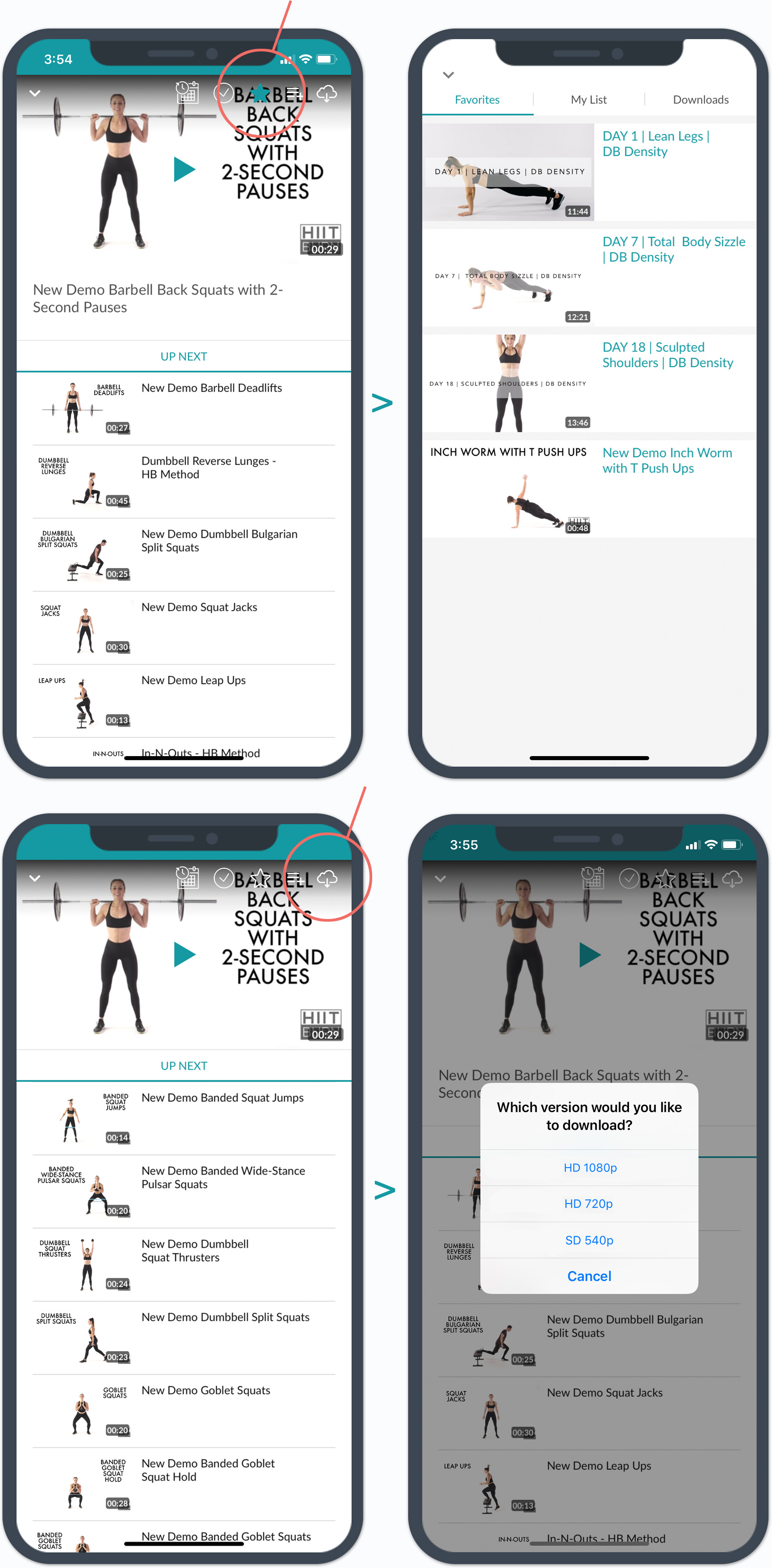 Mobile Push Notifications
HIIT MAX can send unlimited mobile push notifications to app users. They're awesome for announcing new features, offers, or just wishing your app users a great day. Plus, they're great for re-engaging not so active app users and encouraging them to dive back into your app's content
 In-app Transactions
We helped HIIT MAX set up paid content in-app so that its users can easily purchase content within the app while Apple and Android handle the payment side. It's a win-win for both parties, making selling and buying content super easy!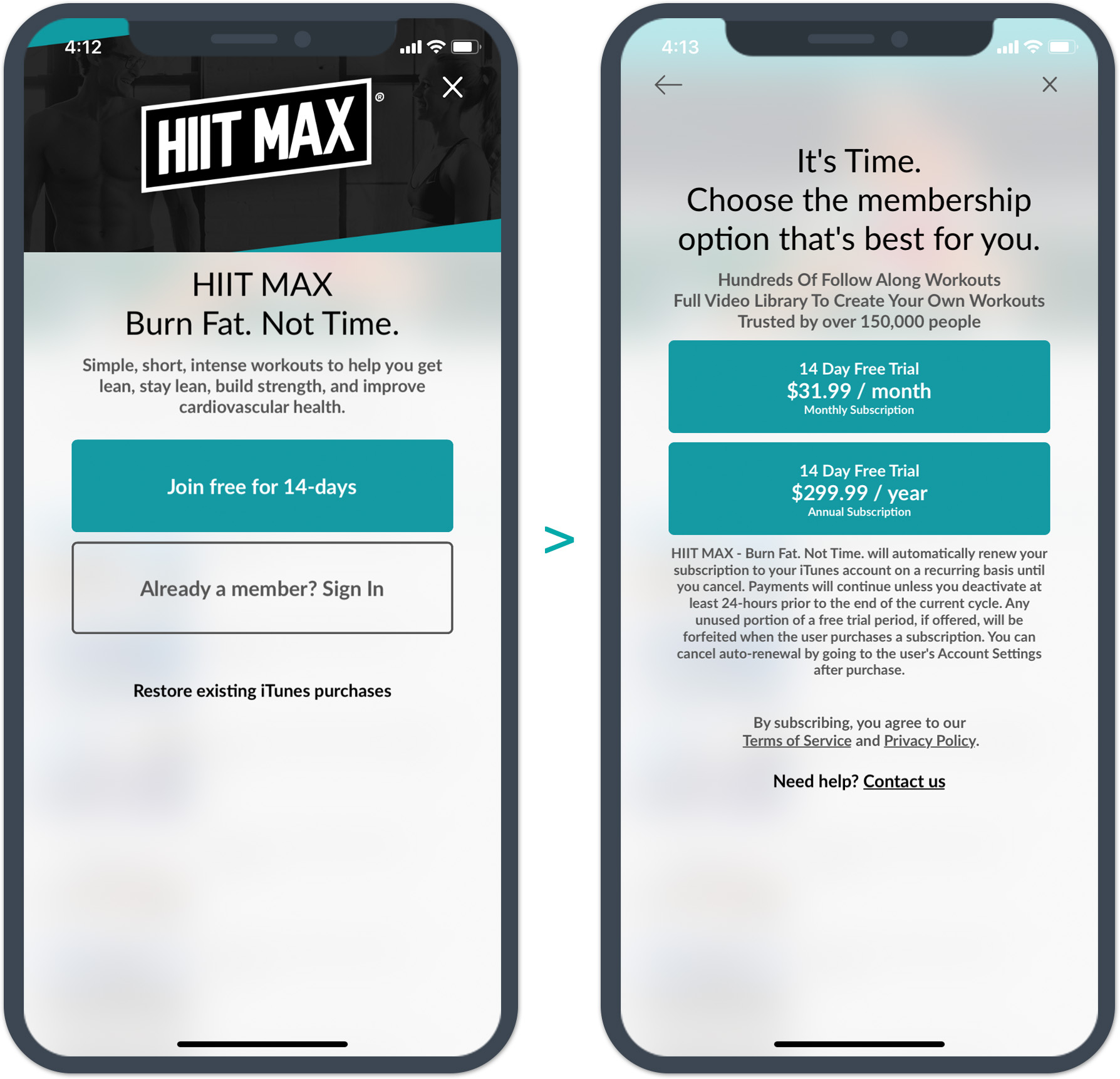 ---
Technical specs:
App platforms: iOS, Android, iPad, and Android Tablet
Website platform: WordPress
Video hosting: Vimeo
Membership plugin: MemberPress
In-app features:

Monthly calendar view for scheduling videos, classes, and programs

In-app playlists

Secure video downloads for offline viewing

Mobile push notifications

In-app transactions

App-to-website membership syncing

Smart search

Ebooks & PDFs

Follow-alongs & instructional videos